Peter Yardley Memorial Trophy to be awarded in Classic Car Competition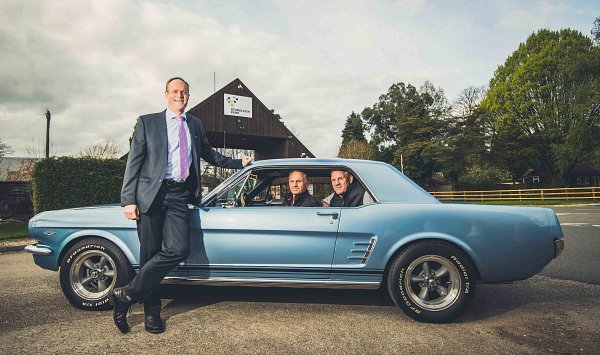 The Peter Yardley Memorial Trophy will be awarded for the first time at this year's Kenilworth Show, honouring one of the event's most ardent supporters.
The winner of the 2017 Classic Car competition will become the first ever recipient of the newly named trophy at the popular agricultural show which will be held on the showgrounds opposite Stoneleigh Park on Saturday, June 10.
Peter Yardley, who passed away in 2016, was a regular classic cars exhibitor at the Kenilworth Show and a big supporter of the event as a whole.
Show organisers, Kenilworth and District Agricultural Society (KADAS), felt it was fitting to name the new trophy in Peter's memory.
The Kenilworth Show Classic Car competition is entering into its sixth year at the show, giving show-goers an opportunity to see some of the very best classic-cars in the UK.
Even before the competition, classic cars have always been a feature of the agricultural show, with specialist owners clubs exhibiting at the event.
Organisers expect around 50 cars to enter the 2017 competition, the winner will then be chosen by an independent judge from KADAS.
Richard Clarke, organiser of the Classic Car competition at the Kenilworth Show, said: "Peter was a lovely guy and always so supportive of everything we do at the show.
"Come rain or shine, it didn't matter, Peter would come down and support us – it is an honour that we have been able to name the trophy after him.
"We get new cars in every year, so we're really excited about what this year's competition will bring. It adds something different to the whole show and gives the car owners a cracking day out too.
"I hope that everyone comes over and visits the stand because we really do have some fantastic cars on show this year."
The cars will be on show throughout the event and will also do a short tour of the Grand Ring, giving visitors the chance to see the classic vehicles in action.
Charlie Weetman, of the Kenilworth Show, added: "Peter was a hugely popular and well respected figure in the local community, as well as a fantastic supporter of the Kenilworth Show.
"The Classic Car show is always one of the highlights of the day, it adds something different, and we are really looking forward to seeing what cars will be competing for the new trophy in Peter's name."
For more information on the Kenilworth Show visit www.kenilworthshow.co.uk